Let's make it happen…
We know you are time poor and want to get started right away so the theory of Lean Commercialisation follows, but for now you need  to be effective so you want the knowledge and to know how to apply it. Our Startup Education provides you with the education resource you need in small, easy chunks with a monthly webinar. Our Guides will help you apply your learning to your idea effectively and quickly.
Startup Education
You need the right information at the right time and, more than that, guidance about what to do next. That's where Just In Time education comes in. We have 40 (and counting) individual minute-long lessons all linked together so you can go broad or deep when and as you need.
Further, each month we provide you with a themed online seminar including 30 minutes of Q&A on any topic to answer any questions you may have.
Head to our Launch page and, once you've created an account, you're off!
Find your Guide
Our Guides or Facilitators have all founded, managed and sold business with over 20 employees. Unlike many advisors, we ensure that they have first hand experience of being in your shoes. They will answer any questions you may have about what you're learning and challenge your understanding of your business and its potential.
Most of all, it takes a human to really make sure you are on the right track.
Request a call and we'll let you know how we can help.
Note: you may need to create a free account to get access to some complimentary videos. This is so that the AI (Artificial Intelligence) algorithm can work out which nuggets of information you may be interested in next.
Do I need to patent my idea first?
No. You don't need to discuss your idea or invention during the Discovery Stage since you are collecting information about the problems that your potential customers are facing. This means there is no requirement to have started the patenting process. However, once something that is novel and inventive has been identified, we recommend you speak to a qualified Patent Attorney to consider starting the process.
How does this save me so much money?
Lean Commercialisation turns the conventional wisdom on its head: we advocate selling the product before building it (obviously setting the right expectations for delivery). Why? Because you only need to build exactly what the customers want. No need for version 1, 2, 3, etc. before you make a sale. That has saved our clients $100,000s.
Do I need to work full time?
No. Many people go though the process part time of discovering more about taking their idea to market and making sales before the leave their full time role. It is the low-risk approach since you are maintaining your income so you can support your lifestyle while you learn what it is going to take to move forward. The founders of Nike, Google and Queen all kept their "day job" for several years before taking the leap to going full time. Check out the video for more details.
Subscription Levels
We have several subscription levels to suit your plans all listed in US dollars below. You can cancel at any time. If you wish, you can always sign up for a month and then cancel once you've watched all the videos and/or attended the webinar of your choice.
Basic
27 Complimentary Nuggets
AI Recommendation
Standard
27 Complimentary Nuggets
0 Enhanced Nuggets
AI Recommendation
Q&A for each nugget
Webinar
27 Complimentary Nuggets
0 Enhanced Nuggets
AI Recommendation
Q&A for each nugget
Monthly Webinars
Shared monthly Q&A
Mastermind
27 Complimentary Nuggets
0 Enhanced Nuggets
AI Recommendation
Q&A for each nugget
Monthly Webinars
Shared monthly Q&A
1-2-1
27 Complimentary Nuggets
0 Enhanced Nuggets
AI Recommendation
Q&A for each nugget
Monthly Webinars
Shared monthly Q&A
1 hour 1-2-1
16% discount 12 hours
What is Lean Commercialisation?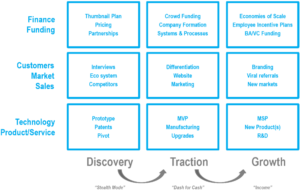 If you want to learn about the theory of Lean Commercialisation, read on… There are three parts to a successful business: The Technology, The Customers and The Team/Finance. These change over time as you progress through Discovery, Traction and Growth.
We know you have the technology; the product or service you are going to sell. We help you understand the other parts – The Customers and The Team; How to gain Traction and Grow.
Lean Commercialisation works because you research and find customers before you start building anything. You have people to sell your idea/product or service to and your off.
Lean Commercialisation is the process which combines years of research and insights from Jim Collins, Alexander Osterwalder, Prof Clayton Christensen, Verne Harnish, Geoffery Moore, etc. put together by a founder of multiple businesses in a way you can understand and use immediately.