I'd identified a problem: how do builders, campers, hikers, nurses, tradespeople, office workers, and police warm their food efficiently in remote, powerless locations? I figured out how to solve the problem but then I was confronted with other questions. How do I protect it and get it to market? How do I position it so I can maximize the sales and prepare for investors?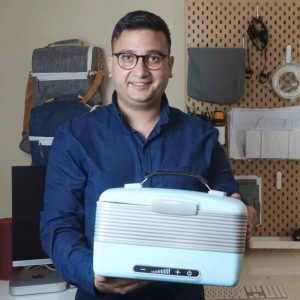 When I first came up with my idea I realised that I was very inexperienced in product development and commercialisation. Previously I'd done some small workshops on innovation and prototyping so I was pretty confident I knew what to do. Then I did some online research to explore the next steps but hit three problems: too much contradictory advice; finding answers to my questions and I just didn't know what I was missing.  I started hitting roadblocks that derail things and took me ages to resolve.
I lodged my provisional patent.  This gave me 12 months to plan the steps to designing, building and commercialising my product. My patent attorney recommended Brian and then introduced us. Like any meeting of that kind we were both exploring where I was up to, what value could Brian give me, what my experience had been to date, what gaps I was looking to fill in my knowledge, as well as where I wanted to go.  It quickly became clear that Brian gives true quality advice. So, I booked in for his Lean Commercialisation workshop with six sessions to follow.
Upon meeting him and going through the initial workshops, he really opened my eyes to how to progress with my idea and get my product onto a commercial footing. Previous roadblocks melted away and other business questions showed up. For example, there was lots of advice that said I should write a full Business Plan, which is a monumental task. When I asked Brian about writing one he was incredibly pragmatic: "What is a fully-fledged business plan and who is it for? Are you looking for an investor? If you don't have a reason for one, then, as long as  you know the content, there's no reason to spend time making it into prose. It'll be out of date within a few weeks in any case!" That was a relief!
The Lean Commercialisation workshops opened my eyes  and accelerated progress with the development of my product. I now had a solid path and know where time needs to be invested for maximum impact.
The key for me was that, through the Lean Commercialisation workshop and methodology, I had a path and the ability to focus in one direction that was backed up with reason and results. Why was this different from my previous experiences? Because it's based on first-hand experience rather than theory from books and websites. And it answers my questions and challenges.
Overall, Brian has made me a better thinker.  Through working with Brian, I now feel that I have enough knowledge to execute this project well and any other. That is the biggest difference. He explored my knowledge and filled the gaps. He supplied more knowledge to respond to different challenges that I came up against.
Brian also walks the talk.  He follows his own advice and he shared his results – the transparency was refreshing! Whenever I ask why, there was always more depth and explanation – often balanced with the contrasting view. I found that allowed me to form a balanced opinion of the right answer for me, my company and my product.
I found the online element and resources to be beneficial and timely. It has allowed me to learn at my own pace and convenience.
Brian has helped me accelerate my progress and make intelligent decisions with purpose.
Although Brian said it up front, I did not expect to gain so much knowledge that I can use for other opportunities and other areas of life and business as well.
Overall, it has and still is a 10 out of 10 experience.