Thank you for signing up to the newsletter – you will receive one email per month and there is always a "cancel option".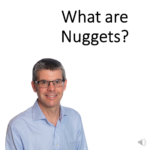 While you are here, you might consider taking a look at some of the free videos or nuggets of information. There are currently 40 nuggets available including book reviews. Each is followed by a the next recommended viewing so you can choose to go into more depth or to another subject.
Each month I run webinars on some key topics for those who are starting businesses. They are all listed on my Keynote Events page.
I look forward to hearing from you,
Brian